WELCOME TO OUR FLOCK
Serendipity occurred when a filmmaker who was looking for better climate solutions connected with an engineer who knew about energy and carbon. They then met a cowboy practicing new grazing methods, and an ecologist quantifying carbon in soil. Let's just say it started to smell like a real solution was under way.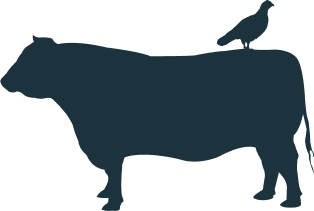 Fate connected this team to two grass fed beef pioneers who were among the best and most seasoned in the game - mastering the art of finishing and marketing. Together they had the skills and drive to solve an important problem. And thus, Blue Nest Beef was born to reinvent real beef with a bigger purpose, changing the way we get from pasture to plate. Because there's nothing better than enjoying delicious meats and knowing they came from sustainable, regenerative practices right on our home soil.
We realize we're not yet as diverse as the prairies we seek
to recreate, but, hey, it's a start.